Overview
Work began in 1950s and first trials were in mid-1956. Later that year a T-54A, driven by Hungarians drove into the British embassy in Budapest. After a brief examination of the tank's armour and 100mm gun, British officials decided that the Ordnance QF 20 Pounder was apparently incapable of defeating it - hence a need for this 105mm gun. The L7 was designed to fit the same space of that of a 20 Pdr, allowing existing tanks equipped with 20 Pdrs to upgrade to the L7.
The L7 succeeded the Ordnance QF 20 Pounder (84mm) and superseded by the 120mm Royal Ordnance L11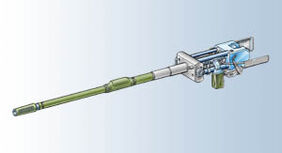 Specifications
It is unknown from what model these stats come from.
Weight: 1282kg (2826lb)
Length: 5.89m (19.3ft)
Barrel Length: 52 calibres (L/52)
Calibre: 105mm
Rate of Fire: 10 rds/minute (maximum)
Ammunition
DM13 APDS
Armour Piercing Discarding Sabot
M392A2 APDS
Armour Piercing Discarding Sabot
M546 APERS-T
Anti Personnel Tracer
This shell is loaded with 8000 8-grain steel flechettes.
Velocity: 1475m/s
APFSDS
Armour Piercing Fin Stablized Discarding Sabot
Canister
Canister, a shotgun essentially
HE
High Explosive
HEAT
High Explosive Anti Tank
DM12 HEATFS
High Explosive Anti Tank Fin Stabilized Sabot
M456 HEATFS
High Explosive Anti Tank Fin Stabilized Sabot
DM502 HESH
High Explosive Squash Head
The shell is loaded with thin metal shells filled with plastic explosive, upon impact the plastic explosive splats against the target and exploding, causing a larger shockwave than a normal explosive shell would produce.
Velocity: 737m/s
M393 HEP
High Explosive Plastic
This shell is essentially a HESH shell, but US calls in HEP.
The shell is loaded with thin metal shells filled with plastic explosive, upon impact the plastic explosive splats against the target and exploding, causing a larger shockwave than a normal explosive shell would produce.
Velocity: 737m/s
Smoke-White Phosphorus Incendiary
TP
Target Practice
TPDS
Target Practice Discarding Sabot
Variants
L7A1
L7A3
M68A1E4
KM68A1
Type 79
Type 81
Type 83
FM K.4 Modelo 1L
Denel GT-7
Usage
Centurion
Olifant
EE-T1 Osório
Leopard 1
M1 Abrams
M1IP Abrams
M47E1 Patton
M47E2 Patton
M48A5 Patton
M60 Patton
M1128 Mobile Gun System
K1 Type 88
Merkava I
Merkava II
OF-40
CM11 Brave Tiger
Panzer 61
Panzer 68
Stingray
Stridsvagn 103
T-54 Tiran-4Sh
T-55 (Egypt & Israel mods)
TAM
Type 74 (Japanese)
Vickers MBT
Vijayanta
Ramses II
Type 88 (Chinese)
Weapons of the United Kingdom


After the Second World War
Infantry Weapons
Melee Weapons
Bayonet
[[]]
Survival Weapon
[[]]
Sidearms
Pistol
L105A1 • L106A1 • L117A1 • L131A1 • L137A1
Revolver
[[]]
Machine Pistol
[[]]
Close Quarters
Personal Defense Weapon
[[]]
Submachine Gun
L80A1 • L90A1 • L91A1 • L92A1
Shotgun (automatic)
[[]]
Shotgun (semi-automatic)
L128A1
Shotgun (manual-action)
L74A1
Primary Weapons
Assault Rifle (5.45/5.56)
L85A1 (A2) • SA80
Assault Rifle (7.62)
[[]]
Assault Rifle (other)
[[]]
Carbine (5.45/5.56)
L22A1 (A2)
Carbine (7.62)
[[]]
Carbine (other)
[[]]
Automatic Support Weapons
Light Support Weapon
L86A1 (A2)
Light Machine Gun
FN Minimi • L108A1 • L110A1 (A2 • A3) • Ultimax 100
General Purpose Machine Gun
L7A1 (A2)
Heavy Machine Gun
L111A1
Long Range
Anti-Materiel Rifle
L121A1 • L135A1
Bolt-Action Rifle
L118A1 • L115A3
Designated Marksman Rifle
HK417 • L2A1 • L129A1
Launchers
Grenade Launcher (Attachment)
L123A1 (A2)
Grenade Launcher (Standalone)
[[]]
Disposable Rocket Launcher
L2A1 • L72A9
Rocket Launcher
[[]]
MANPADS
[[]]
Non-Lethal Weapons
Pistol
[[]]
Underwater Weapons
Sidearm
[[]]
Rifle
[[]]
Explosives
Anti-Personnel Mines
M18 Claymore
Anti-Tank Mines
L9A8
Offensive Grenades
L109A1
Smoke Grenades
L84A1 • L132A1

Infantry Equipment
Clothing
Backpacks
[[]]
Body Armour
[[]]
Bomb Suit
[[]]
Elbow and knee pads
[[]]
Signals & IFF
[[]]
Suits
[[]]
Vests & Webbing
[[]]
Headwear
Communication
[[]]
Gas Masks & Rebreathers
[[]]
Goggles
[[]]
Helmets
[[]]
Vehicle Headwear
[[]]
Optics, Detection and Surveillance
Man-Portable Radar
[[]]
Mine Detectors
[[]]
Night Vision Goggles
[[]]
Periscopes
[[]]
Rangefinders
[[]]
Surveillance
[[]]

Artillery
Anti-Aircraft Guns
[[]]
Anti-Tank Guns
[[]]
Anti-Tank Guided Missile Launchers
[[]]
Anti-Tank Guided Missiles
[[]]
Grenade Machine Guns
L134A1
Howitzers
[[]]
Mortars
81mm L16A2
Railroad Artillery
[[]]
Recoilless Guns
[[]]
Rocket Artillery
[[]]
Siege Artillery
[[]]

Aircraft Weapons & Munitions
7.62mm Machine Guns
[[]]
12.7mm Machine Guns
[[]]
23mm Cannons
[[]]
30mm Cannons
[[]]
37mm Cannons
[[]]
Rocket Pods
[[]]
Rockets
[[]]
Air-to-Air Missiles
[[]]
Air-to-Ship Missiles
[[]]
Air-to-Surface Missiles
[[]]
Anti-Radiation Missiles
[[]]
Cruise Missiles
[[]]
Bombs
[[]]