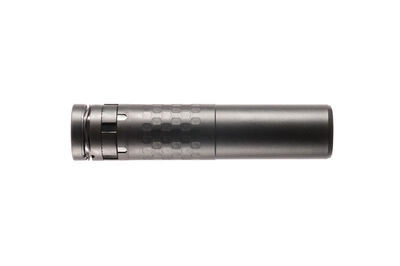 The 5.56 SAKER Suppressor is a suppressor made by SilencerCo.
Use
This suppressor fits multiple 5.56x45mm NATO caliber rifles.
Store Description
The 5.56 Saker is the most advanced rifle suppressor on the market. Packed with features never before offered in the industry, the Saker is yet another ground breaking product offered by Silencerco. The Saker has an interchangeable front cap feature for different purposes such as a flash hider. The baffles are made from an exotic material that has never been offered in silencers and is approximately 30% stronger than Inconel®. The Saker has several patent pending technologies that place it leagues above it's competition. Made for durability, accuracy, and function, the Saker is Superior Silence.

Features: MAAD Mount:
Silencerco's Multiple Accessory Attachment Device (MAAD) allows you to interchange the Saker's mount so that you can attach the Saker to your preexisting quick detach mount and save hundreds of dollars.
HOPLON Baffle:
This patent pending baffle technology protects the Saker's baffles from erosion thus increasing its durability. Much as armor on an armored vehicle deflects the debris from an IED, the Hoplon Baffle deflects debris and cuts down on baffle erosion up to 90%.
TRIFECTOR RS Flash Hider:
The TrifectaRS flash hider is the most advanced quick detach mount on earth. The RS stands for Resonance Suppression which is a patent pending technology that keeps the flash hider from ringing like a tuning fork. The TrifectaRS also allows the Saker to be attached and detached from the rifle quickly with one hand.
Specs
Caliber:

5.56 mm

Weight:

18.02 oz

Diameter:

1.5"

Length:

6.758"

Sound reduction:

32-34 dB

Mount:

Trifecta RS Flash Hider™ Mount

Optional Mounts:

51 Tooth Mount
Direct Thread Mount
Y-Mount
Specwar Mount
(Future mounts to come)

Materials:

Baffles: Stellite®
Tube: 316L Stainless Steel

Features:

Full Auto Rated
Interchangeable mounting options with MAAD Mount
Interchangeable front cap feature with MAAD Cap
Worry-free, positive locking, one hand on/off QD mount
Baffle material over 30% more durable than Inconel®
Hoplon baffle reduces harmful erosion
Lifetime warranty

MSRP:

$1200 (includes fast attach mount)
Ad blocker interference detected!
Wikia is a free-to-use site that makes money from advertising. We have a modified experience for viewers using ad blockers

Wikia is not accessible if you've made further modifications. Remove the custom ad blocker rule(s) and the page will load as expected.