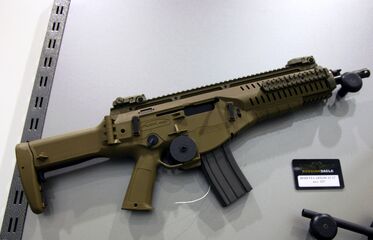 Beretta's ARX-160 Assault Rifle.
All rights to their respective owners.
Background
The ARX-160 is a modular assault rifle. Developed for the Italian Armed Forces as part of the Soldato Futuro ("Future Soldier") program, the ARX-160 was launched in 2008 as a commercial weapon system independent from the Soldato Futuro ensemble. Complete with a companion single-shot 40x46mm NATO grenade launcher, titled GLX-160, which can be underslung to the rifle or used with an ad-hoc stock system as a standalone weapon.
Design
From Wikipedia
The ARX-160 departs from the previously issued Beretta 70/90 weapon system on several points. The weapon is composed of upper and lower receiver, both manufactured mostly in polymer, and operates through a short-stroke piston system. Feeding is through STANAG magazines.
The weapon's unique features include ambidextrous safeties, magazine catches and charging handle, the ability to change which side spent casings are ejected, a quick-change barrel which can be removed and replaced in seconds without tools, picatinny rails, and a foldable telescopic stock.
The lightweight barrel is chrome lined and manufactured by the hammer forging process at the Beretta factory in Gardone Val Trompia, Lombardy. The standard length is 16 in (410 mm), with a 12 in (300 mm) barrel for special operators. A 16 in heavy barrel with match-grade rifling for marksmen and a 20 in (510 mm) barrel are being tested. The flash hider has 5 radial cuts and 4 smaller cuts to control muzzle climb in automatic firing. Barrels have a 1:7 twist to fire NATO standard ball and tracer rounds. The non-free-floated barrel is easily removed simply by pulling on slide levers and pulling it out. A bayonet lug, designed for Fulcrum Extrema Ratio bayonet is positioned on top of the barrel rather than underneath it.
The ARX-160 operating system is unique in that the piston moves almost 2 in (50.8 mm), while other systems move fractions of an inch. The piston follows the bolt carrier almost all the way rearward, resulting in low gas pressure levels and a less sudden and more constant push on the carrier group.
The rifle has the ability to eject shells out of either the left or right for ambidextrous operation. The bolt has seven lugs and an extractor on the left and right, with no ejector. The extractors are spring-loaded and which way cases are ejected is selected by pressing one through a small hole located past the port. It is small and optimized for the tip of a bullet to fit. The ejection port is open on both sides and directs shells at a 45° angle from the barrel. The cocking lever is on the bolt carrier and can be positioned on either side by pulling it out, swinging it through the ejection port, and pushing it in to secure it in place.
Back-up iron sights are standard and made of the same polymer as the gun's receiver. The front sight post is adjustable for windage and elevation and the rear peep sight has six positions to fire in increments from 100–600 meters. The primary optical sight is the Aimpoint ACIES, a domestic version of the M2 close combat optic. Night vision systems, thermal sights, and other accessories will be available through the Soldato Futuro program.
Different calibers are planned by changing out the barrel, bolt, lower receiver, and magazine. In addition to 5.56x45mm NATO, 7.62x39mm and 6.8mm Remington SPC configurations are planned, as well as the possibility of 5.45x39mm. A prototype heavy version is chambered for the 7.62x51mm NATO as a battle rifle.
Variants
ARX-160
ARX-160SF
ARX-160 PDW
ARX-100
Various unnamed/unknown prototypes exist.
Specifications
Cartridge: Various cartridges available;
Weight: Varies;

406mm Barrel: 3.1kg (6.8lb)
302mm Barrel: 3.0kg (6.6lb)

Length: Varies;

302mm Barrel, Extended Stock: 755mm (29.72in)
302mm Barrel, Collapsed Stock: 680mm (26.77in)
302mm Barrel, Folded Stock: 580mm (22.83in)
406mm Barrel, Extended Stock: 920mm (36.22in)
406mm Barrel, Collapsed Stock: 820mm (32.28in)
406mm Barrel, Folded Stock: 755mm (29.72in)

Barrel Length: Multiple available;

302mm (11.89in)
406mm (15.98in)

Width: 80mm
Action: Gas Operated, Rotating Bolt
Rate of Fire: 700 rds/min
Effective Range: 600m (656yd)
Feed System: 5.56x45mm STANAG compatible magazines, or 30 round magazines for other cartridges.
Sights; Front sight adjustable in elevation and windage.
Users
Albania - Special Forces
Egypt - Egyptian Armed Forces
Italy - Italian Armed Forces (30000 ARX-160)
Kazakhstan - Kazakhstan Special Forces (Unknown amount of 7.62x39mm ARX-160, unknown amount of GLX-160)
Mexico - Federal Police (~5687 ARX-160)
Turkmenistan - Military of Turkmenistan (1680 ARX-160, 150 GLX-160)