The B13 130mm/50 Pattern 1936 Russian Naval/Coastal Gun
Overview
The B13 is a 130mm naval gun, also used in coastal emplacements.
Specifications
Caliber: 130mm
Barrel Length: 6581mm (21ft 7in)
Bore Length: 6450mm (21ft 2in)
Rifling Length: 5199mm (17ft 1in)
Crew (1+10)
Weight: 5180kg (11420lb)
Breech: Screw Breech
Elevation: -5° - +45°
Rate of Fire: 5~13 shots/min
Muzzle Velocity: 820~870m/s (2700~2900ft/s)
Maximum Range: 25597m (27993yd)
Uses
Watercraft:
Russian;
Polish:
Mounts:
B-13 Mount
B-2LM Mount
B-2LMT Mount
B-28 Mount
B-2-U
Land Vehicles
Russian;
Finnish;
Unknown armoured railway wagon
Variants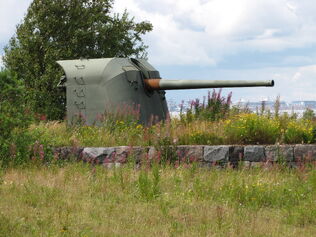 Russian
Unknown designation first model
Unknown designation second model
Unknown designation third model
Unknown designation model for tank use
Finnish
130/50 N | 130mm50 kaliiperin merikanuua mallia N
130/50 NRaut
Users
Soviet Union
People's Republic of China
Polish Republic
British Protectorate of Egypt
Indonesia
Republic of Finland
Ad blocker interference detected!
Wikia is a free-to-use site that makes money from advertising. We have a modified experience for viewers using ad blockers

Wikia is not accessible if you've made further modifications. Remove the custom ad blocker rule(s) and the page will load as expected.