The BA-10 Russian Armoured Car
Overview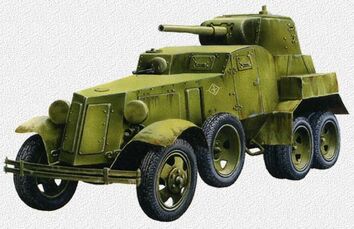 The BA-10 or Broneavtomobil 10, was an Armoured Car developed in the Soviet Union in 1938 and produced till 1941. Many BA models mounted turrets from light tanks, including turrets from BT-5, BT-7 and T-26 tanks.
Armament
45mm 20-K Tank Gun (49 rounds)
Coaxial: 7.62x54mmR DT (2079 rounds shared)
Hull: 7.62x54mmR DT (2079 rounds shared)
Specs
Weight: 5.14t
Length: 4.65m
Width: 2m
Height: 2.2m
Crew: 4
Armour: 6~15mm
Engine: GAZ-MM 50hp (37kW)
Power/Weight: 10hp/tonne
Suspension: Wheeled
Operational Range: 300km
Speed: 53km/h
Variants
Users
Russia (Main operator)
Finland (At least 24 captured)
Germany
Other Axis Factions
Ad blocker interference detected!
Wikia is a free-to-use site that makes money from advertising. We have a modified experience for viewers using ad blockers

Wikia is not accessible if you've made further modifications. Remove the custom ad blocker rule(s) and the page will load as expected.