Nexter's FAMAS.
Overview

Fusil d'Assaut de la Manufacture d'Armes de Saint-Étienne | Assault Rifle from the Saint-Étienne Weapon Factory | FAMAS
The FAMAS is the current service rifle of the French Armed Forces.
Features & Specs
Features
Rifle Grenades
The FAMAS features the ability to load grenades onto the end of the barrel and fire them as rifle grenades. Alidades exist to assist aiming. The FAMAS also allows for an external 40x46mm SR M203 Grenade Launcher to be mounted.
Grenades that fit this mounting are;
APAV 40 F1 (Requires blank rounds)
APAV 40 F2 (Allows live rounds)
AC 58 F1 (Requires blank rounds)
AC 58 F2 (Allows live rounds)
Others
The FAMAS comes equipped with a bipod, each prong located on either side of the upper handguard area. There is also a large carry handle that houses iron sights. The charging handle is located on the upper face of the receiver, in the gap created by the carry handle. This design is seen on various rifles, notably the Chinese QBZ-95.
Specifications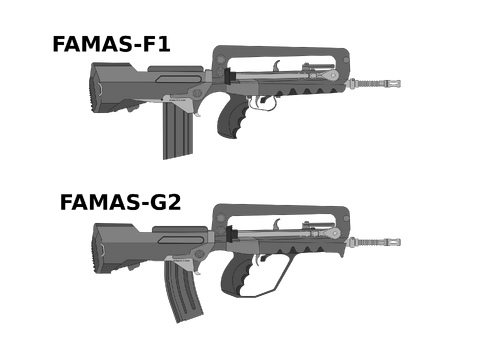 Variants
FAMAS F1
FAMAS G1
FAMAS G2
FAMAS Export
FAMAS Civil
FAMAS Commando
FAMAS Infanterie
There exists a modified FAMAS model used with the FÉLIN system