Overview
Russian heavy assault tank.
Variants
KV-2 mod.A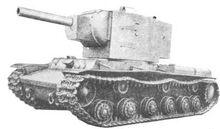 The KV-2A initially had a 122mm howitzer and later a 155mm howitzer.
KV-2 mod.B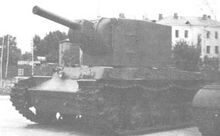 The KV-2B was an upgraded design compared to the KV-1A. It has an asymmetric gun mantlet, and 35mm of applique armour added to the front of the turret. It also changed it's armament again to a 152mm howitzer. Rarely, these models were fitted with flamethrowers.
KV-2-85
Equipped with a 85mm F-39 cannon, TSh-16 gunsight. A test took place with this unit in March 1941.
KV-2-107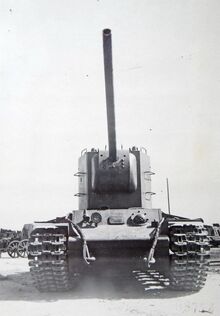 GABTU requested in 1940 a KV tank to be equipped with 107 mm gun with a muzzle velocity of 730-750m/s in order to penetrate 100-110mm of armour at 1000m range. The gun must fire quickly, have high penetration, and have sufficient stock of ammunition. Must have an armour piercing shell and a high explosive grenade. At the time, the most suitable gun was the 107mm M-60.
The KV-2-107 is equipped with a 107mm F-42 cannon or 107mm ZiS-6 cannon. Was designed and made in Zavod 92 under supervision by V. Grabin in 1940-1941.
Russian Land Vehicles of the Second World War