Overview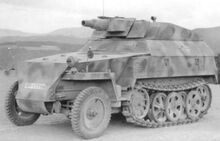 The leichter Schützenpanzerwagen (light armoured personnel carrier) is a German utility halftrack developed during World War II. The standard variant is used for transporting troops and towing various artillery. The leichter Schützenpanzerwagen is commonly known as the Sd.Kfz. 250 (Sonderkraftfahrzeug 250), which is the 250th unit indexed in Germany's military ordnance index.
Variants
There are a number of official variants indexed, with many more unofficial field modifications.
Field Modifications
Mounts a 5cm PaK 38 L/60.
Tracked Vehicles
Light Tanks
Standard Light Tanks
E-10 • lKA1 • lKA2 • leichter Panzerkampfwagen zur Verwendung gegen Erd und Luftziele mit 5,5cm vollautomatischer Waffe • Panzerkampfwagen I (A • B • C • D) • Panzerkampfwagen II (a • b • c • A • B • C • D • E • F • G • H • J • L • M) • Panzerkampfwagen 35(t) • PzKpfw 38(t) Series (A • B • C • D • E • F • G • S • nA) • Panzerkampfwagen 38(d) • PzKpfw T-15 • PzKpfw T-21 • PzKpfw T-22 • PzKpfw T-23 • VK6.01 • VK6.02 • VK9.01 • VK9.03 • VK13.03 • VK16.01 • VK16.02
Amphibious Light Tanks
Panzerkampfwagen II mit Schwimmkörper • Panzerkampfwagen 38(t) mit Schwimmkörper
Flamethrower Light Tanks
Flammpanzer I • Flammpanzer II A • Flammpanzer II B
Command Light Tanks
Führungs-Fahrzeug auf PzKpfw 731(r) • Panzerbefehlswagen I (A (early) • A (mid) • A (late) • B • B Rahmenantenne • B für Sd.Kfz.300/303) • PzBfw 35(t)
Medium Tanks
Standard Medium Tanks
E-50 • KAv • mKA • Mehrzweckpanzer • Panzerkampfwagen III (A • B • C • D • E • F • G • G Schachtellaufwerk • H (early) • H (late) • H Schachtellaufwerk • J (early) • J (late) • K • L (early) • L (late) • M • N) • Panzerkampfwagen III/IV • Panzerkampfwagen IV (A • B • C • D • E • F1 • F2 • G • H • J • W1462) • Panzerkampfwagen IV/V • Panzerkampfwagen V Panther (D • A • G • F • II • V1 • V2) • VK20.01(Rh) • VK24.01 • VK28.01(K) • VK30.01(DB) • VK30.01(H) • VK30.01(MAN) (V1 • V2) • VK30.01(P) • VK30.02 • Z.W.38 • Z.W.40 • Z.W.41
Amphibious Medium Tanks
Tauchpanzer III (B • F • G • H • PzBfw III H) • Tauchpanzer IV • Tauch-StuG III • Unterwasser-Tauchfahrzeug
Command Medium Tanks
Panzerbefehlswagen III (D1 • E • G • H (early) • H (late) • K • M) • Panzerbefehlswagen IV (H • J) • PzBfw V D • PzBfw V D mit Pz IV H Turm • PzBfw V A • PzBfw V G • PzKpfw III (Fu) J • PzKpfw III (Fu) L • PzKpfw III (Fu) N • Tauch-PzBfw III H
Flamethrower Medium Tanks
Flammpanzer III M • Flammpanzer 38(t)
Heavy Tanks
Standard Heavy Tanks
Begleitwagen I(Rh) • Begleitwagen I(K) • Begleitwagen II(K) • Durchbruchwagen I • Durchbruchwagen II • E-75 • E-100 • Infanteriewagen • K-Wagen • L.K. • Landkreuzer P. 1000 "Ratte" • Landkreuzer P. 1500 "Monster" • Neubaufahrzeug V(Rh) • Neubaufahrzeug VI(K) • Oberschlesien • PzKpfw I F • Panzerkampfwagen VI Tiger (H1 • H2 • E) • Panzerkampfwagen VI Ausf. B Tiger II • Panzerkampfwagen VII • Panzerkampfwagen VIII Maus (Maus II) • sKA • Type 205 • Type 245 • VK18.01 • VK30.01(H) • VK30.01(P) • VK36.01(H) • VK45.01(P) • VK45.01(H) • VK45.02(H) • VK45.02(P1) • VK45.02(P2) • VK45.03(H) • VK65.01(H) • VK70.01(K) • VK72.01 • VK100.01(K) • VK100.01(P) • VK130.01(K)
Command Heavy Tanks
Pzbfw VI • Pzbfw VI(P)
Self-Propelled Guns
Self-Propelled Anti-Aircraft Guns / Flakpanzers
2cm FlaK 38 auf Raupenschlepper Ost • 3cm MK 103 auf Typ 245 • 5cm FlaK 41 auf VK16.02 • 5cm FlaK 41 auf VK28.01 • 5cm Gerät auf VK16.02 • 5cm Gerät auf VK28.01 • 5,5cm Gerät 58 Zwilling auf Waffenträger • 5,5cm MK 122 auf Typ 245 • 8,8cm FlaK 37 auf Panzerkampfwagen IV • 8,8cm FlaK 41 auf Panzerkampfwagen IV • 8,8cm Panzerflak von Rheinmetall • Flakpanzer I • Flakpanzer II • Flakpanzer IV Kugelblitz • Flakpanzer IV Möbelwagen • Flakpanzer IV Ostwind (II) • Flakpanzer IV Wirbelwind • Flakpanzer IV Zerstörer 45 • Flakpanzer 38(t) Gepard • Flakpanzer 38 D • Flakpanzer 341 • Flakpanzer 747(r) • leichter Panzerkampfwagen zur Verwendung gegen Erd und Luftziele mit 5,5cm vollautomatischer Waffe • Mehrzweckfahrzeug mit Vierling 2cm
Tank Destroyers
3,7cm (Sfl.) auf Hanomag-Schlepper • 4,7cm PaK 36(t) (Sf) auf Fahrgestell Panzerkampfwagen I • 4,7cm PaK 38(t) auf PzKpfw 731(r) • 4,7cm PaK 181(f) auf Panzerjäger LrS(f) • 4,7cm PaK 183(f) auf Panzerjäger LrS(f) • 5cm PaK 38 auf Fahrgestell Panzerkampfwagen II • 7,5cm PaK 40/4 auf Raupenschlepper Ost • 7,5cm PaK 42 L/70 mit Kugelblende auf VK9.03 • 7,5cm PaK 97/38(f) auf Panzerkampfwagen 740(r) • 8,8cm PaK 43/1 L/71 auf Geschützwagen III/IV (Sf) • 10,5cm Kanone 18 (Sfl.) Panzerkampfwagen IVa "Dicker Max" • 12,8cm Kanone 43 L/55 (Sfl) Gerät 5-1213 Rheinmetall Borsig • 12,8cm Kanone 43 L/55 (Sf) Panzerkampfwagen Panther (W1734) • Ardelt 8,8cm PaK 43/3 L/71 auf leichter Einheitswaffenträger • E-25 • Jagdpanzer 38 D • Jagdpanzer 38(t) • Jagdpanzer 38(t) mit 10,5cm Sturmhaubitze 42/2 L/28 • Jagdpanzer 38(t) mit 7,5cm L/70 • Jagdpanzer 38(t) Starr • Jagdpanzer IV L/43 • Jagdpanzer IV L/48 • Jagdpanzer IVb • Jagdpanzer V Jagdpanther • Leichttraktor(Rh) • L.S.K. • Marder-Series • Marder I LrS • Marder I FCM-36 • Marder I 39H • Marder II 75mm • Marder II 76.2mm • Marder III • Marder III Ausf. H • Marder III Ausf. M • Panzer IV lang(E) • Panzer IV/70(A) • Panzer IV/70(V) • Panzerjäger 38(t) mit PzKpfw IV Turm • Panzerjäger Tiger(P) Ferdinand • Panzerjäger Tiger(P) Elefant • Panzerjäger Tiger Ausf. B(H) • Panzerjäger Tiger Ausf. B(P) • Panzerjäger Tiger Ausf. B mit 8,8cm PaK 43/3 L/71 • Panzerjäger Tiger Ausf. B mit 12,8cm PaK L/66 • Panzerkampfwagen IV mit 7,5cm StuK 40 • Panzerkleinzerstörer • Panzer Selbstfahrlafette für 12,8cm K40 • Porsche Typ 245/2 • Porsche Typ 250 • Porsche Typ 255 • schwerer kleiner Panzerkampfwagen mit 10cm PAW • schwerer kleiner Panzerkampfwagen mit 10,5cm • schwerer kleiner Panzerkampfwagen mit 10,5cm leFH 43 und 3cm MK 108 • Waffenträger 8,8cm Krupp-Ardelt • Waffenträger 8,8cm Rhm.-Borsig • Waffenträger 8,8cm Steyr • VK70.02(P)
Self-Propelled Gun / Assault Gun
7,7cm Kanone auf Hanomag-Schlepper • 12,8cm Kanone 43 Gerät 5-1211 Krupp • 15cm schweres Infanteriegeschütz 33/1 (Sf) auf Panzerkampfwagen 38(t) Ausf. M • 30,5cm L/16 auf Sfl. "Baer" • Gerät 5-1530 • Gerät 5-1528 • Geschützwagen Tiger • Sd.Kfz. 165/1 • Sturmhaubitze 42 • Sturm-Infanteriegeschütz 33B • Sturmgeschütz auf Leopard • Sturmgeschütz III (A • B • C • D • E • F • F/8 • G • L/70) • Sturmgeschütz IV • Sturmgeschütz E-75 • Sturmgeschütz E-100 • Sturmgeschütz 853(i) • Sturmpanzer IV • Sturmpanzer V Sturmpanther • Tauch-StuG III
Self-Propelled Howitzer
10,5cm leFH 16/18 (Sf) auf Geschützwagen FCM-36(f) • 10,5cm leFH 18 (Sf) auf Geschützwagen LrS(f) • 10,5cm leFH 18/1 auf Geschützwagen IVb • 10,5cm leFH 18/40/2 auf Geschützwagen III/IV • 10,5cm leFH 18/6 auf Geschützwagen III/IV • 10,5cm leFH 43 auf Typ 245 • 15cm sFH 13 (Sf) auf Geschützwagen LrS(f) • 15cm schweres Feldhaubitze 18/4 Gerät 811 • 15cm sIG 33 (Sfl) auf Panzerkampfwagen II Ausf.B • 15cm sIG 33B (Sfl) auf Fahrgestell Panzerkampfwagen III Ausf. H • Bison I • Sturmpanzer 38(t)
Self-Propelled Mortar
8cm schwere Granatwerfer 34 auf Panzerspähwagen AMR-35(f) • 30,5cm Mörser M 16 auf Sturmpanzer IV • Gerät 040 • Gerät 041 • Panzermörser 35(t) • Sturmpanzer VI Sturmtiger
Self-Propelled Rocket Artillery
Panzerkampfwagen IV Ausf. C mit schweres Wurfgerät 41 28-32cm • Raketenwerfer Panther
Explosive Related
Remote Controlled Explosives
Goliath • Springer
Demolition Carriers
Bogward III • Bogward IV
Mine Laying
Ladungsleger auf Panzerkampfwagen I Ausf. A • Ladungsleger auf Panzerkampfwagen I Ausf. B • Ladungsleger II
Mine Clearing / Sweeping
Alkett Vs.Kfz. 617 Minenräumer • Krupp Räumer S • Minenräumer III • Mineräumpanzer IV
Misc Tanks
Ammunition Carriers
Munitionspanzer III • Munitionspanzer für Sturmpanzer
Armoured Recovery
Bergepanther (D • A • G) • Bergepanzer 38 D • Bergepanzer 38(t) • Bergepanzer I • Bergepanzer II Ausf. J • Bergepanzer II Luchs • Bergepanzer III • Bergepanzer IV • Bergepanzer VI(P) • VKz35.01
Bridge Laying
Brückenleger auf Panzerkampfwagen I Ausf. A • Brückenleger auf Panzerkampfwagen II Ausf. B • Brückenleger IV Ausf. C • Brückenleger IV Ausf. D • Brückenmaterialträger • Pionierpanzerwagen III • Sturmstegpanzer IV
Engineering & Maintenance
Instandsetzungskraftwagen I • Pionierkampfwagen I
Training Vehicles
PzKpfw I A o Aufbau • PzKpfw I B o Aufbau • Fahrschulpanzer V • Fahrschulpanzer VI • Fahrschulpanzer 740(f)
Transport & Towing
Raupenschlepper Ost
Rail Tanks
Schienenkampfwagen 1
Ramming & Land / Snow Clearance
Ramschaufelpanzer Panther • VK45.01(P) mit Rammhaube
Recon & Observation
Artillerie-Panzerbeobachtungswagen Fahrgestell Panther mit 5cm KwK 39/1 • Aufklärer 38 D mit 2cm Hängelafette • Aufklärer 38 D mit 7,5cm AK 7 B 84 L/48 • Aufklärungspanzer 38(t) • Aufklärungspanzer mit 5,5cm vollautomatischer Waffe • Aufklärungspanzer V Panther • Aufklärungsfarhzeug Auto Union • BoebPzw II • Kugelpanzer • Panzer-Aufklärer auf 38(t) • PzBeobw II • PzBeobw III • PzBeobw IV J • PzBeobw V D • PzSpw II (2cm) • Panzerspähwagen II (5cm) • Vollkettenaufklärer 38(t)
Half-Tracked Vehicles
Offensive / Defensive
Anti-Aircraft
2cm FlaK 30 auf Fahrgestell Zugkraftwagen 1t • 2cm Flak 38 auf Fahrgestell Zugkraftwagen 1t • 2cm Flak 38 (Sf) auf leichter Zugkraftwagen 3t • 2cm Flakvierling 38 (Sf) auf mittlere Zugkraftwagen 8t • 3,7cm FlaK 43 (Sf) auf schwere Wehrmacht Schlepper • 5cm FlaK 41 (Sf) auf mittlere Zugkraftwagen 5t • 8,8cm FlaK 18 (Sf) auf schwere Zugkraftwagen 12t • 8,8cm FlaK 37 (Sf) auf schwere Zugkraftwagen 18t • leichter Truppenluftschützenpanzerwagen
Armoured Recon
leichter Schützenpanzerwagen (2cm) • leichter Schützenpanzerwagen (3,7cm PaK) Alte • leichter Schützenpanzerwagen (3,7cm PaK) nA
Fire Support
leichter Schützenpanzerwagen (7,5cm) • leichter Schützenpanzerwagen (schwerer Panzerbüchse 41
Mortar Carrier
8cm R-vielfachwerfer auf Fahgestell S 303(f) • leichter Schützenpanzerwagen (schwerer Granatwerfer) • mittlere Schützenpanzerwagen S307(f)
Rocket Artillery
8cm Raketenwerfer auf Fahgestell S303(f) • 8cm Reihenwerfer auf Fahgestell S303(f)
Tank Destroyers
5cm PaK 38 (Sf) auf leichte Zugkraftwagen 1t • 7,5cm PaK 40 (Sf) auf Fahrgestell S 307(f) • 8,8cm FlaK 18 (Sf) auf schwere Zugkraftwagen 12t • 8,8cm FlaK 37 (Sf) auf schwere Zugkraftwagen 18t • leichter Schützenpanzerwagen mit Sfl 5cm PaK 38 L/60 • Panzerjäger S307(f) mit 7,5cm PaK 40 L/46
Utility
Ammunition Carriers
leichter Gepanzerter Munitionskraftwagen • leichter Munitionspanzerwagen Ausf. A • leichter Munitionspanzerwagen Ausf. B
Command
leichter Beobachtungspanzerwagen nA
Communication & Cable Related
kleines Kettenkraftrad für Feldkernkabel • kleines Kettenkraftrad für schweres Feldkernkabel • leichter Fernsprechpanzerwagen • leichter Funkpanzerwagen
Observation, Spotting & Survey
leichter Gepanzerter Beobachtungskraftwagen • leichter Beobachtungspanzerwagen Alte • leichter Messtruppanzerwagen • mittlere Schützenpanzerwagen (Infrarotscheinwerfer)
Transport & Towing
Gepanzerter Transportkraftwagen P380(f) • kleines Kettenkraftrad • leichter Schützenpanzerwagen Series • leichter Schützenpanzerwagen Alte • leichter Schützenpanzerwagen nA • leichter Schützenpanzerwagen U304(f) • leichter Zugkraftwagen 1t • leichter Zugkraftwagen 3t • leichter Zugkraftwagen S307(f) • mittlere Gepanzerter Zugkraftwagen S303(f) • mittlere Zugkraftwagen 5t • mittlere Zugkraftwagen 8t • Schützenpanzerwagen M2(a) • Schützenpanzer M3(a) • schwere Zugkraftwagen 12t • schwere Zugkraftwagen 18t • Zugkraftwagen P302(b) • Zugkraftwagen P302(f) • Zugkraftwagen P304(f)
Wheeled Vehicles
Offensive / Defensive
Armoured / Scout / Patrol Cars
ARW • gepanzerter Kraftwagen • leichter Machinengewehrkraftwagen • leichter Panzerspähwagen (2cm) Ausf. A • leichter Panzerspähwagen (2cm) Ausf. B • leichter Panzerspähwagen (MG) • leichter Panzerspähwagen (4rad Tp) • Maschinengewehrkraftwagen Kfz.13 • Panzerspähwagen 202(i) • Panzerspähwagen Škoda PA-II 4-rad • schwerer Panzerspähwagen (2cm) • schwerer Panzerspähwagen (5cm) • schwerer Panzerspähwagen (6rad) • schwerer Panzerspähwagen (7,5cm K 37) • schwerer Panzerspähwagen (7,5cm K 51) • schwerer Panzerspähwagen (7,5cm K L/48 • schwerer Panzerspähwagen (7,5cm PaK 40) • ZRW
Self-Propelled Anti-Aircraft Guns
2cm FlaK 30 auf Volkswagen Schwimmwagen Type 166 • schwerer geländegängiger Lastkraftwagen 4,5t Mercedes-Benz L4500A als Flakwagen für 3,7cm FlaK 36 • Selbstfahrlafette auf Fahrgestell VOMAG 7 OR 660 mit 8,8cm FlaK 36
Other
Command
Funkkraftwagen Kfz.14 • Kleiner Panzerfunkwagen Ausf. A • Kleiner Panzerfunkwagen Ausf. B • Krupp Kfz. 61 • leichter Funkkraftwagen • leichter Panzerspähwagen (Fu) Ausf. A • leichter Panzerspähwagen (Fu) Ausf. B • Obel Blitz 3,0t Radiostation • Panzerfunkwagen (6rad) • Panzerfunkwagen (8rad) • Panzerspähwagen Škoda PA-II(Fu) 4-rad • schwere geländegängiger gepanzerter Personenkraftwagen • schwerer Panzerspähwagen (Fu)
Fire Fighting
Obel Blitz 1,0t KzS
Kitchen
Obel Blitz 3,0t Küchenwagen
Medical
Opel Admiral Sanitätskraftwagen • Obel Blitz 2,5t Sanitätskraftwagen • schwerer Einheits PKW Krankenwagen • VW Typ 82 Kübelwagen Ambulance • VW Typ 87 Ambulance
Motocycles
BMW R17 • BMW R68 • BMW R71 • BMW R75 • DKW NZ 350 • FN M12 • Gillet Herstal 720 AB • Gnome-Rhône AX II • Nimbus • Zündapp DB 200 • Zündapp DBK 200 • Zündapp K 800 • Zündapp KS 600 • Zündapp KS 750
Transport & Towing
Adler 10N • Adler 12N 3G • Adler 12N RW • Adler 3GD • Adler V40T • Adler W61 • ADTK • BMW 3/15 PS • BMW 3/20 PS • BMW 309 • BMW 315 • BMW 319 • Borgward 5 t • Borgward B 3000 A • Borgward B 3000 A • Borgward Europa V • Borgward L 2000 S • Borgward L 2300 • Borgward Typ 3 t Benzin G.W. • Borgward Typ 3 t Diesel G.W. • Ford BB • Ford EGa • Ford EGb • Ford EGd • Ford EG Typ 40 • Ford G198TWA • Ford G388TS • Ford G398TS • Ford G917T • Ford G987T • Ford G997T • Ford V 3000A • Ford V 3000S • Ford V 3000S/SSM Maultier • Ford V8 G48 • Ford V8 G78 • Ford V8-51 • gepanzerter Kraftwagen • Hanomag 3/16 PS • Hanomag 4/20 PS • Hanomag 4/23 PS • Hanomag Garant • Hanomag Rekord • Horch Typ 1a Kfz.15 • Horch Typ 1a Kfx. 21 • Horch 830B • Horch 830R • Horch 901 • Krupp L2H43-143 • Mercedes-Benz 320 Model 1939 • Mercedes-Benz DB s 7 • Mercedes-Benz DB s 8 • Mercedes-Benz DB L 5 • Mercedes-Benz DB L 7 • Mercedes-Benz DB L 8 • Mercedes-Benz DB m 8 • Mercedes-Benz DB 9 • Mercedes-Benz DB 10 • Mercedes-Benz G3a • Mercedes-Benz LG63 • Mercedes-Benz LG65/3 • Mercedes-Benz LG65/4 • Mercedes-Benz LG3000 • Mercedes-Benz Lo2000 • Mercedes-Benz Lo2500 • Mercedes-Benz Lo2750 • Mercedes-Benz Lo3750 • Mercedes-Benz L701 • Mercedes-Benz L1500A • Mercedes-Benz L1500E • Mercedes-Benz L1500S • Mercedes-Benz L3000 • Mercedes-Benz L3000A • Mercedes-Benz L3000S • Mercedes-Benz L3750 • Mercedes-Benz L4500A • Mercedes-Benz L4500R • Mercedes-Benz L4500S • Mercedes-Benz L6500 • Mercedes-Benz L10000 • Mercedes-Benz O2600 • Opel Admiral Kastenwagen • Opel 1,2L pritsche • Opel 1,2L kastenlieferwagen • Opel 2,0L pickup • Opel 2,0L gas generator pickup • Opel 10 • Opel P4 Kastenlieferwagen • Opel-Blitz gas generator • Opel-Blitz 1,0t • Opel-Blitz 1,0t omnibus • Opel-Blitz 1,0t Kastenwagen • Opel-Blitz 2,5t-32 • Opel-Blitz 2,5t • Opel-Blitz 2,5t omnibus • Opel-Blitz 3,0t ombibus • Opel-Blitz 3,6t-36S • Opel-Blitz 3,6t-36SSM • Opel-Blitz 3,6-47 omnibus • Opel-Blitz 3,6-47 Wehrmacht omnibus • Opel-Blitz 3,6-6700A • Opel-Olympia OL38 • Saurer RR-7 • schwerer Einheits PKW (Fernsprechkraftwagen • Flakkraftwagen • Funkkraftwagen • Mannschaftskraftwagen • Protzkraftwagen • Scheinwerferkraftwagen I • Scheinwerferkraftwagen II • Verstärkerkraftwagen) • schwerer geländegängiger gepanzerter Personenkraftwagen (4rad) • schwerer geländegängiger gepanzerter Personenkraftwagen (6rad) • Škoda H6ST6-T • Škoda Radschlepper Öst • Škoda Typ 903 • Škoda Typ 952 • Steyr-40D/140 • Steyr-40D/340 • Steyr-40D/440 • Steyr-270 1500A/02 • Steyr-470 RSO/01 • Steyr-640 • Steyr-2000A • Tatra 57 (A • B • K) • Tatra 72 • Tatra 82 • Tatra 92 • Tatra 111 • Tatra 57K • VW Typ 82 Kübelwagen • VW Typ 87 • VW Typ 166 Schwimmwagen