The NSV Heavy Machine Gun
Overview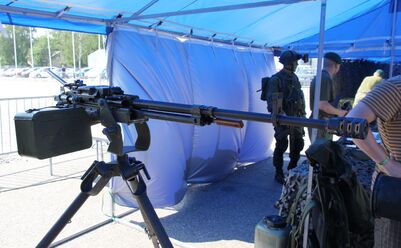 The NSV was designed to replace the DShK and started introduction in the Soviet Army in 1971.
Specs
Designer: G.I. Nikitin, Y.S. Sokolov, V.I. Volkov
Designed: Central Design Bureau of Sports and Hunting Weaponry, Tula, 1969
Manufacturer: Metallist, Uralsk, Kazakh SSR
Produced: 1971-Present
Weight: 25kg (55.12lb)
Weight on Tripod: 41kg (90.39lb)
Weight w/ 50rd Belt: 11kg (24.25lb)
Length: 1560mm (61.4in)
Cartridge: 12.7x108mm
Action: Gas-Operated
Rate of Fire: 700-800 rds/min
Muzzle Velocity: 845m/s (2772ft/s)
Effective Firing Range: 2km
Maximum Range vs. Aircraft: 1.5km
Sight: Iron Sights
Variants
NSV
NSVT (Vehicle Version)
12,7 Ilmatorjuntakonekivääri 96 (Finnish Licensed Version)
M87 NSVT (Serbian Licensed Version)
NSW (Polish Licensed Version)
WKM-B (Polish Licensed Version in .50BMG)
KT-12,7 (Ukrainian Version)
MG-U (Bulgarian Version)
Users
Armenia
Bosnia
Bulgaria
Cyprus (Used on T-80U)
Egypt (Used on T-80U)
Finland
Georgia
Herzegovina
India
Iraq
Kazakhstan
Kuwait (Used on M-84)
Macedonia
Mauritius
Mongolia
Poland
Russia / Soviet Union
Serbia
Syria
Ukraine
Vietnam
Ad blocker interference detected!
Wikia is a free-to-use site that makes money from advertising. We have a modified experience for viewers using ad blockers

Wikia is not accessible if you've made further modifications. Remove the custom ad blocker rule(s) and the page will load as expected.