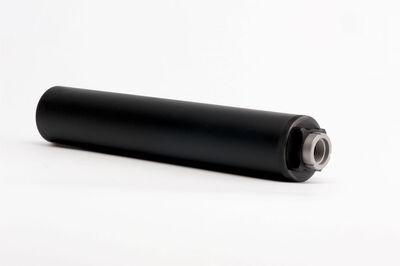 The OCTANE 45 HD Suppressor is a suppressor made by SilencerCo.
There is another make of this suppressor, the OCTANE 9 HD Suppressor
Use
This suppressor fits multiple .45 ACP, .40 S&W, 9mm, and 300 AAC Whisper/Blackout (Subsonic) caliber handguns.
Store Description
THE VERSATILE SUPPRESSOR
Whether it is industry leading sound reduction on a 45ACP handgun or durability on submachine guns and subsonic rifles, the Octane 45 performs. The innovative high strength stainless steel CTA baffles allow it to be disassembled with ease and make it the most versatile and durable suppressor on the market. The Octane 45's interchangeable pistons mean caliber versatility as well. It can be used on 9mm, .40, or .45 cailber host firearms simply by swapping pistons.
CLICK TOGETHER ASSEMBLY (CTA) BAFFLE STACK
The Octane 45 HD has a unique design for easy disassembly and user serviceability. The CTA baffle stack makes it the easiest .45 silencer on the market to clean. The unique click together design keeps debris from reaching the tube of the suppressor, which allows it to be disassembled with ease. CTA baffles are very important when shooting full auto on a submachine gun or shooting lead bullets.
Store Features
Multiple mounts for maximum versatility
Multi Caliber Rated
Full Auto Rated
Lifetime Warranty
User Serviceable with CTA Baffles
Stainless Steel Baffles for easy cleaning and durability
Store Specs
Caliber

.45 ACP
.40 S&W
9mm
300 AAC Blackout/Whisper (subsonic)

length

8.50"

diameter

1.375"

weight

12.1 oz

finish

Hard Coat Anodized

baffles

17-4 PH Stainless Steel

tube

6061 Aluminum

thread mount

17-4 PH Stainless Steel

sound pressure level

133dB (Tested with HK Tactical (dry), 45 ACP, Federal American Eagle 230 gr)

MSRP

$849 (with piston)