Overview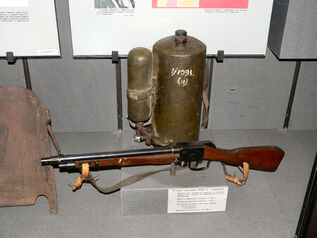 The ROKS flamethrowers were designed to look like the user was using a rifle, to stop the enemy from prioritizing the flamethrower unit. This flamethrower was used during World War II.
Finnish Captured Version
The Finnish designation for captured ROKS-2 units was liekinheitin M/41-r
Variants
Info
In Service: 1935-1945
Manufacturer: Unknown
Weight: 22.7kg (50lb)
Crew: 1
Produced: 1935-1941
Effective Range: 25m
Maximum Range: 30m
Feed System: 9L fuel tank + 1 nitrogren tank (propellant)
Sights: None
Ad blocker interference detected!
Wikia is a free-to-use site that makes money from advertising. We have a modified experience for viewers using ad blockers

Wikia is not accessible if you've made further modifications. Remove the custom ad blocker rule(s) and the page will load as expected.