Overview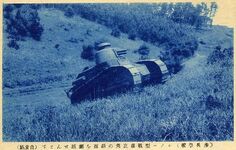 The Renault Kō (ルノー甲型戦車, Runō Kō-Gata Sensha, Renault A-Type Tank) was a Japanese licensed French tank. In 1919, Japan purchased 22 Renault FT-17 light tanks, which arrived in 1920. The vehicles were given to the Army Infantry School, which founded a tank school unit for them, as well as the 1st IJA tank Company. This company was a trial unit aimed to learn everything about the new vehicles. Eventually, the Army Cavalry School also received some Kō-Gata. The cavalry was impressed with the vehicle and requested more. However, in 1922, it was decided by the IJA that only the infantry units were to be allowed operation of tanks. All Kō-Gata were transferred to the infantry.
Some Kō-Gata were sent to Manchuria where they successfully participated in several clashes with Chinese from 1929 - 1931. Many Kō-Gata (cannon model) were field modified, having the main armament replaced with a 37mm Sogekihō. Some MG models had the standard Hotchkiss M1914 swapped out with a Type3 HMG. The tank was already absolute upon its first use and was swiftly replaced with new designs. All of the remaining vehicles were given to the IJA Tank School where they were used as driver training vehicles until they were completely phased out in 1932.
Ad blocker interference detected!
Wikia is a free-to-use site that makes money from advertising. We have a modified experience for viewers using ad blockers

Wikia is not accessible if you've made further modifications. Remove the custom ad blocker rule(s) and the page will load as expected.