SU-100 Casemate Tank Destroyer
Overview
SU-100 | Компоновка СУ-100 | Object 138
The SU-100 was developed from the SU-85, which was developed on the T-34 chassis. It replaced it's turret with a casemate installation allowing larger guns to be fitted. On the SU-100, a 100mm D-10S cannon was used.
The later SU-100-M-2 was based on the T-44 chassis.
Specifications
Armaments
Other
Weight: 31.6t (69665lbs)
Length: 9.45m (30ft)
Width: 3m (9ft 10in)
Height: 2.25m (7ft 5in)
Crew: 4 (Driver, Gunner, Loader, Commander/Other
Engine: Kharkiv Model V-2-34 12-Cylinder Diesel, 500hp (370kW)
Power/Weight: 16 hp/tonne
Suspension: Christie
Operational Range: 320km (199mi)
Speed: 48km/h (30mph)
Number Built: 2335+
Variants
Development leading to the SU-100
SU-100 and it's derivitives
SU-100
ESU-100 (Electric Transmission)
SU-100-M-1
SU-100-M-2 | Uralmash-1
SU-100M (Egyptian Post-war)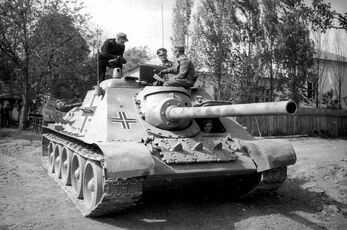 Further Development
Users
Soviet Union: 2335+
Germany: At least 3 captured SU-100
Egypt
Angola
Cuba
China: 99 SU-100 under use by the PLA after from 1st December 1950, it is unknown whether these units are still operational.
Yugoslavia: Unknown SU-100 amount under new designation "M-44"
Vietnam: Vietnam People's Army have an unknown amount of SU-100
North Korea: Korean People's Army Ground Force have an unknown amount of SU-100
Yemen: At least one SU-100 in use in the Yemeni Civil War (2015).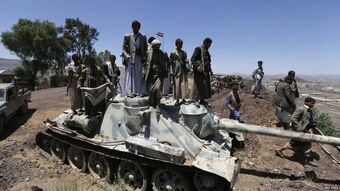 Other
List of Russian Objects: Russian Objects
Other tanks, of comparable role and era:
Jagdpanzer V Jagdpanther (German)
A39 Tortoise (British)
Semovente da 90/53 (Italian)
44M Tas Rohamlöveg (Hungarian)
Russian Land Vehicles of the Second World War
Chinese (PRC) Land Vehicles after WWII
Tracked Vehicles
Light Tanks
Light Tank
WZ-131 • WZ-132 • ZTD-05 • ZTD-62 (-I • G) • ZTD-70 • ZTQ-96 • ZTQ-15
Light Tank, Amphibious
ZTS-63 (I, II)
Light Tank, Command
ZCL-45 • ZSY-45 • ZZZ-701
Infantry Fighting Vehicle
ZBD-04 (A) • ZBD-05 • ZBD-85 • ZBD-86 • ZBD-97
Medium Tanks
Main Battle Tank
WZ-120 • WZ-122 • ZTZ-59 (I, II, IIA, C, D, D1, G, 16) • ZTZ-69 (I, IIA, III) • ZTZ-79 • ZTZ-80 (II) • ZTZ-85 (I, II, IIA, IIM, III) • ZTZ-88 (A, B, C) • ZTZ-90 (II, III) • ZTZ-96 (A, B) • ZTZ-98 • ZTZ-99 (A)
Main Battle Tank, Command
ZZZ-59-I • ZZZ-69-IIB/C
Medium Tank
[[]]
Heavy Tanks
Heavy Tank
WZ-111
Self-Propelled Guns
Self-Propelled Anti-Aircraft Gun & SAM
PGZ (Type-65) • PGZ-80 • PGZ-88 • PGZ-90 (II • III) • PGZ-95 • Project 301 • WZ-554
Self-Propelled Anti-Tank Guided Missile
ZDF-01 • ZDF-85 • ZDF-89
Self-Propelled Anti-Tank Gun
PTZ-59 • PTZ-85 • PTZ-89 • SU-100
Self-Propelled Howitzer
PLZ-04 • PLZ-05 • PLZ-07 (A, B) • PLZ-45 • PLZ-52 • PLZ-70 • PLZ-83 • PLZ-85 • PLZ-89 • PLZ-91
Self-Propelled Mortar
YW-304 • YW-381
Self-Propelled Recoilless Gun
[[]]
Self-Propelled Rocket Artillery
PHZ-70 • PHZ-82 • PHZ-89
Explosive Related
Mine Laying
[[]]
Mine Clearing / Sweeping
GSL-131
Misc Tanks
Armoured Personnel Carrier
YW535 • ZSD-63(A, C) • ZSD-85 • ZSD-89 (II) • ZSD-90
Armoured Recovery
Type-79 • Type-84 • Type-653
Bridge Laying
[[]]
Command
ZZZ-89
Engineering & Maintenance
GJT-211 • ZHB-94 • ZJX-93
Medical
[[]]
Observation, Spotting & Survey
GLC-45 • ZZC-01
RADAR
[[]]
Reconnaissance
ZTQ-62 (I, G)