The Soviet SU-122-54 casemate tank destroyer.
Brief
SU-122-54 / СУ-122-54 / Object 600
The SU-122-54 is a casemate tank destroyer based on the T-54 tank chassis, it is armed with the 122mm D-49 L/48.4 main gun. 77 of these were made between 1954 and 1957. Currently, there is a SU-122-54 located at the Oruzhie Pobedy Museum of Military Technologies, Krasnodar, Russia. Crew of 5 (Commander, Gunner, Driver, 2 Loaders)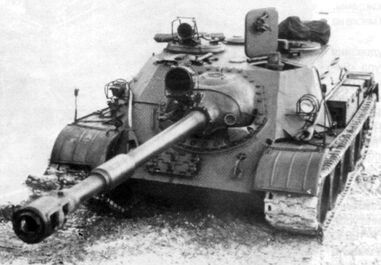 Armour
Front Hull: 100mm
Side and Cheek: 80mm
Front Lower Glacis: 100mm
Mantlet Shield: 100mm
Mantlet: 100mm
Mantlet Neck Shield: 50mm
Mantlet Ring: 50mm
Rear Case: 30mm
Rear: 45mm
Lower Side Hull: 80mm
Top: 20mm
Rear Lower Glacis: 20mm
Bottom: 20mm
Treads/Tracks: 18mm
Any treads/tracks placed on the hull served as a small addition of armour.
Armament
Main Gun
122mm D-49 L/48.4 main gun, equipped with 32 rounds.
Pintle
14.5mm KPVT heavy machine gun. Shared 600 rounds with Coaxial.
Coaxial
14.5mm KPVT heavy machine gun. Shared 600 rounds with Pintle.
Other Specs
Weight: Around 36 Tonnes.
Engine: V-54-2 (V-12, Watercooled, Diesel, 520HP)
Suspension: Torsion Bar w/ Hydraulic Shock Absorbers.
Ground Pressure: 0.81kg/cm²
Maximum Inclination 30°
Maximum Fording Depth: 1.4m
Ad blocker interference detected!
Wikia is a free-to-use site that makes money from advertising. We have a modified experience for viewers using ad blockers

Wikia is not accessible if you've made further modifications. Remove the custom ad blocker rule(s) and the page will load as expected.