Overview
The Springfield Model 1863 is a .58 caliber rifle musket, which is a minor improvement of the Springfield Model 1861 and is commonly classified as a variant of the model 1861.
The Model 1863 was produced in two variants. The Type I eliminated the band springs and replaced the flat barrel bands with oval clamping bands. It also featured a new ramrod, a case-hardened lock, a new hammer, and a redesigned bolster (percussion chamber).
The Type II is sometimes referred to as the Model 1864, but is more commonly referred to as just a variant of the Model 1863. This version re-introduced band springs, replaced the clamping bands with solid oval bands, and replaced the three leaf rear sight with single leaf sight.
Videos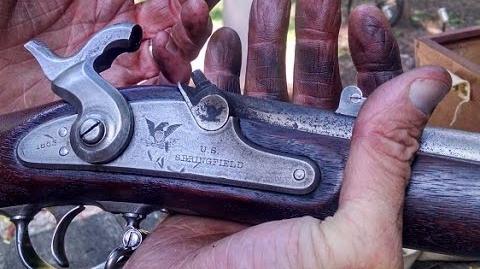 Ad blocker interference detected!
Wikia is a free-to-use site that makes money from advertising. We have a modified experience for viewers using ad blockers

Wikia is not accessible if you've made further modifications. Remove the custom ad blocker rule(s) and the page will load as expected.