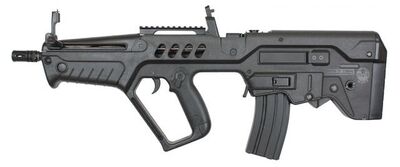 IWI's Tavor-21 Assault Rifle.
Section heading
For the other Tavor-21 variants, click here.
Section heading
Weight
3.27kg (7.21lb)
Length
720mm (28.3in)
Barrel Length
460mm (18.1in)
Cartridge
5.56x45mm
Action

Gas-operated

Rotating bolt

Rate of Fire
750-900 rounds/min
Muzzle Velocity
910m/s (2,986ft/s)
Effective Firing Range
500m
Feed System
STANAG compatible
Sights

Folding Front & Rear Sights

Meprolight MP21

ITL MARS

EOTech 553
Ad blocker interference detected!
Wikia is a free-to-use site that makes money from advertising. We have a modified experience for viewers using ad blockers

Wikia is not accessible if you've made further modifications. Remove the custom ad blocker rule(s) and the page will load as expected.