Overview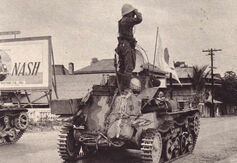 The Type 97 Te-Ke (九七式軽装甲車 テケ Kyū-nana-shiki kei sōkōsha Teke) was a reconnaissance designed tankette that replaced the Type 94 Tokushu Keninsha. The vehicle was conceived when a diesel prototype of the Type 94 TK showed to be ridden with issues, requiring a new vehicle design. As a result, Te-Ke heavily resembles the TK, the major visual changes being the relocation of the engine to the back, and shifting of the turret to the center. The Te-Ke replaced the TK on the assembly line in 1939. The main gun was intended to be a Type 94 37mm, but due to issues with supply, many vehicles were instead fitted with a Type 97 7.7mm (2800 rounds). The Te-Ke was used to great effect as an armoured recon vehicle. However, much like the TK, later on the Te-Ke was often used for infantry support and even against tanks. It was not designed to perform these tasks, and saw little success.
Variants
Armored personnel and ammunition carrier built upon the Type 97 Te-Ke chassis.
Artillery observation vehicle built upon the Type 97 Te-Ke chassis.
Ad blocker interference detected!
Wikia is a free-to-use site that makes money from advertising. We have a modified experience for viewers using ad blockers

Wikia is not accessible if you've made further modifications. Remove the custom ad blocker rule(s) and the page will load as expected.