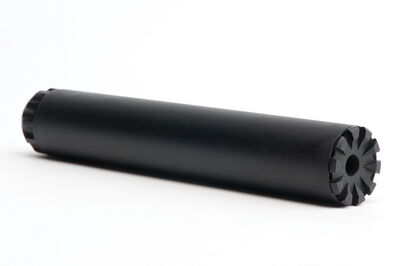 The WARLOCK II Suppressor is a suppressor made by SilencerCo.
Uses
This suppressor fits multiple .22 lr caliber handguns.
Store Description
THE LIGHTWEIGHT SUPPRESSOR
SWR created the Warlock II for maximum sound suppression in a lightweight aluminum package. The Warlock II has minimal first round pop for optimal discretion. Be it a clandestine operation or plinking, this 22 suppressor will ensure quiet success.
CLICK TOGETHER ASSEMBLY (CTA) BAFFLE STACK
The Warlock II has a unique CTA baffle design for easy disassembly and user serviceability, which is very important for any .22 lr silencer. Because the .22 lr round is not copper jacketed, molten lead and carbon debris will explode into the silencer when the projectile exits the muzzle. After some time it is possible for a .22 suppressor to fill completely with lead and become heavy and ineffective. To avoid this issue they must be disassembled for cleaning and regularly maintained. Most .22 silencers on the market can be disassembled for cleaning, however they require cleaning every 50 to 200 rounds or often times they will fuse together and they are unable to come apart. When the lead and carbon debris adhere to the inner wall of the silencer tube and fill the spaces between the baffles and the tube, there is simply too much build up of fouling and lead to remove the tube from most .22 lr silencers on the market. The Warlock II has the unique CTA baffle design that keeps the carbon and lead debris from reaching the silencer tube allowing it to be disassembled easily.
Store Features
User Serviceable with CTA Baffles
Lifetime Warranty
Lightweight
O-Ring engagement to keep barrel threads clean and the silencer securely mounted
Store Specs
| | |
| --- | --- |
| Caliber | .22 lr |
| length | 6" |
| diameter | 1" |
| weight | 3 oz |
| finish | Hard Coat Anodized |
| baffles/end caps | 7075 T6 Aluminum |
| tube | 6061 T6 Aluminum |
| thread mount | 17-4 Stainless Steel |
| decibles of reduction | 41 Decibels |
| MSRP | $299 |