Overview
The
Westland Whirlwind Mk.I
is a British twin-engined heavy fighter developed as part of an Air Ministry request in 1935 for a fighter armed with a cannon. The Westland Whirlwind was submitted, along with the
Bristol Type 153
,
Hawker Hurricane
and
Supermarine Type 313
.
Variants
Prototype. Two were built (L6844 and L6845).
Westland Whirlwind Mk.I
First production model. 2 prototypes and 114 serial produced out of 400 ordered.
Fighter-bomber variant fitted with underwing bomb racks. At least 67 converted from the Mk.I.
Experimental Armaments
The Westland Whirlwind Mk.I had experimental armaments in the vehicle for possible future variants or improvements upon the Aircraft based on the Mk.I airframe. Some variants were tested to be used as Night Fighters and have a different armament configuration then the standard of four 20mm Hispano mk.I's
The first prototype was armed with twelve 7.7x56mm Browning M1919 machine guns in the nose in groups of four in three rows.
This is one of the other variations on the armament with a 37mm gun in the nose with bulges allows room for a larger loading mechanism for the 37mm cannon.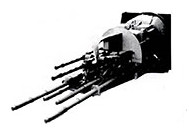 Another experimental armament of the Westland Whirlwind configuration uses four 20mm Hispano Mk.I's and four 7.7mm Browning machine guns.