Overview
The ZiS-30 was a light tank destroyer based on the chassis of the
T-20 Komsomolets
armoured artillery tractor. The ZiS-30 was a hastily designed tank destroyer created shortly after the German invasion in 1941. In August 1941, Vasiliy Grabin and his design bureau at Zavod 92 mounted the
57mm ZiS-2
gun onto a Komsomolets.
For its era, the 57mm gun was a very powerful anti-tank gun, whereas other cannons were between 20mm and 50mm. The 57mm was larger and fired far more powerful ammunition.
Variants
ZiS-30
Standard ZiS-30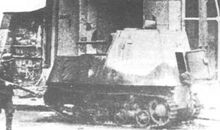 Based on the ZiS-30, the SU-45 mounted a 45mm gun in a casemate. Only one built.
Ad blocker interference detected!
Wikia is a free-to-use site that makes money from advertising. We have a modified experience for viewers using ad blockers

Wikia is not accessible if you've made further modifications. Remove the custom ad blocker rule(s) and the page will load as expected.